Give a Child a Beautiful Custom Made Gift
"A Unique and Beautiful Story Book for Every Name"
Preview Your Book, Enter Child's Firstname
What others are saying!
"We purchased this book for my cousins little boys christening. They absolutely loved it. It's very well made, has beautiful illustrations and we could add a personal message inside the book, we added the date of the christening so it can be remembered for years to come. Would recommend the hardback as that's what we got and its looks amazing. A superb keepsake gift. Thanks"

Holly



"I have bought this item for my husband for Valentine's Day to read to our son (something he loves doing each night) and I just know he's going to love it! The beginning of the book has a lovely personalised message for him too. Very happy and would most certainly recommend. Lovely gift for a birthday or christening. Very special item, very good service."

Katie



"I was over the moon to receive the personalised story book in super quick time and it's absolutely perfect. Lovely quality and the story created by my little boys name (each letter of the alphabet has its own mini story) is wonderful."

Alison



"A lovely, unique storybook with a very professional look; fantastic quality hardback cover, print and illustrations. Bought as a keepsake gift for a friend's newborn - they absolutely loved it (as did I!)."

Dr. A.A



"Absolutely fabulous book - so beautifully made and I can't wait to give it to my niece who I know will totally LOVE it. I was in touch with the seller also and he was so incredibly helpful in getting it dispatched within a certain time frame. I cannot recommend this product highly enough. REALLY good value for money. Thank you so much!"

Stella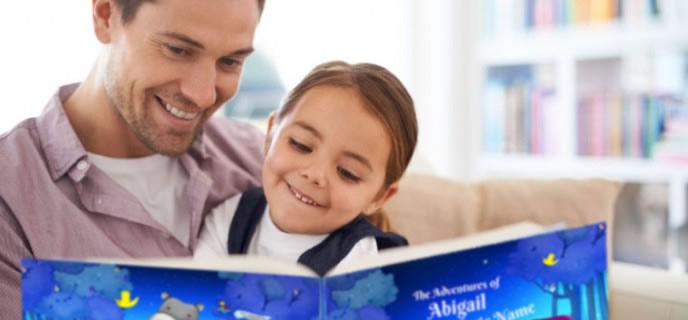 So how does it work?
It's a Beautifully Illustrated personalised children's book and keepsake with a magic twist
But.. this is no ordinary children's story book, every personalised book is entirely unique as each illustration and rhyming story is purely based on the letters of the child's name.

Even short names have extra stories and illustrations so every book is packed full of magic.

The delightful storyline cleverly uses each letter of the child's name to help colourful characters in the nearby circus. A wizard has made the little boy or girl's alphabet magical so each letter used has special powers.

This personalised book is magical with captivating illustrations and inspiring words.
A truly wonderful adventure unfolds where friendships are made
and positive messages are learnt

Create your book now to preview the magical story. Even short names have extra stories so every child has a book with 38+ pages or more



HOW TO ORDER

To order one or more copies, simply add the child's name and optional details above, select create book, then you can preview your book or place your order on the next page. From there you can change the colour of the cover from dark to light or add a hardback option.

The more books you add to your basket the more discount your recieve. For group discounts please contact us.
Make a child's bedtime magical and easily encourage reading!